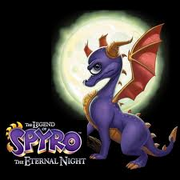 Spyro Eternal night
is about the character Spyro, a small purple dragon, fighting off the Ape King and his forces from making this night last forever.
The Legend of Spyro: The Eternal Night continues the storyline established by A New 'Beginning, which ended with the defeat of Cynder, a black dragon in servitude for an enemy called the "Dark Master". In The Eternal Night, a new antagonist -- "Gaul" the Ape King has risen to power and is intent on resurrecting the Dark Master on The Night of Eternal Darkness.
Infinite Dragon Time:Edit
Pause the game and press the following buttons at the same time: L1+R2+SQUARE+TRIANGLE. Hold for three seconds, then release. Then, resume the game and start using Dragon Time. After it runs out, repeat the last step and you will have unlimited Dragon Time. Note: Must be re-entered for each level
Infinite Magic:Edit
Insert the following cheat while the game is paused to give Spyro infinite magic: UP, UP, DOWN, DOWN, LEFT, RIGHT, LEFT, RIGHT, L1, R1, L1, R1.
Infinite Health:

Edit
To get infinite health, pause your game and press the following button combination: TRIANGLE, TRIANGLE, SQUARE, CIRCLE, SQUARE, CIRCLE, TRIANGLE, R1, L1, L2, L2, TRIANGLE, R2. (unverified)
Unlockable Cheats
Dark Spyro:Edit
To unlock the Dark Spyro character, beat all of Story Mode. Then, select Extras from the Main Menu and reload your save file. This will allow you to access "Dragon Challenges". There are five of them, so defeat them all. If you do so, you will then have Dark Spyro to use.
OR pause the game and enter this code: R2, L2, R2, L2, L1, L1, R1, R1, L1, R1, L2, L2, R2, R2